CASE STORY
Connecting industrious people to innovative benefits
DELIVERABLES
Employment Brand Strategy
Open Enrollment Campaign
Campaign Collateral
Field Operations Training Materials
Email Campaign
Internal Social Media Campaign
Original Team Member Photography
the challenge
As of 2021, At Home is a home decor superstore that operates 225 stores in 40 states. At Home's motto, "Biggest selection. Best prices. Every day," reflects the variety of 50,000 everyday low-priced products housed within the average-sized store of 110,000 square feet. Anyone can find something they love At Home, no matter their style, room, or budget.
Despite all of this, At Home struggled to get its Team Members to sign up for benefits.
According to an employee satisfaction survey conducted by Willis Towers Watson, 78% of employees said they are more likely to stay with their employer for their benefits program. MindHandle's goal is to articulate to Team Members that working at At Home is so much more than a job and the benefits they receive are much more than just standard perks.
The insight
Over 40% of workers said their company loyalty would increase if their benefit options were customized to meet their individual needs
51% of employers say that using benefits to retain employees will become even more important in the next 3 to 5 years
The cost of replacing an employee can range from 50% to 400% of their annual salary
The approach
Team Members need to understand how At Home's benefits work and how they could profit from them. To solve this, MindHandle designed postcards, facilitator guides, and emails to communicate these perks.
Before MindHandle, the enrollment process created a dry and inaccurate representation of the At Home culture. Now, Team Members are introduced to the At Home benefits in a fun, heartwarming way that reminds them why they chose to work At Home in the first place.
The Goals
Help Team Members understand the available benefits
Empower Team Members to make the right benefits choices
Increase enrollment in benefits programs
Promote how working at At Home is so much more than a job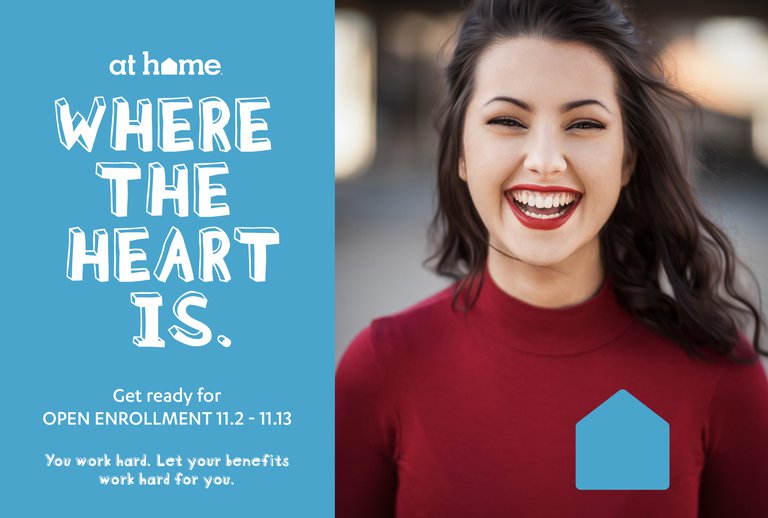 The campaign
MindHandle designed a campaign to articulate to Team Members that working at At Home is much more than a job... It means you are the heart and soul of the company. Bearing this in mind, suddenly, the benefits became much more than just standard perks.
THE AT HOME CAMPAIGN INCLUDED:
Postcards
To inform Team Members of the benefits campaign and encourage them to take action and enroll via a fun, stand-out graphic.
Benefits Guide
To supply Team Members with a tool for how to get the most out of the benefits program. Understanding how our wellness program works and knowing the differences between medical plans can help Team Members make decisions that allow them to get the best value for their investment.
Facilitator's Guide
The guide includes part-time and full-time personas and recommends medical and prescription plan options that might be most suitable for different Team Members' needs.
Emails from the At Home team
To build-up to the open benefits enrollment and communicate seasonal reminders
Social Posts
To notify Team Members of the campaign and promote enrollment in benefits
The Results
By focusing on producing a cohesive internal communications and HR campaign targeted to a large, distributed workforce, At Home galvanized enthusiastic support around benefits sign-up and meaningfully engaged their most valuable asset–employees. All this, during pandemic: a critical time for both access to benefits and the need for employee retention.
Reached a greater percentage of employees than prior years' benefits campaigns, thanks to the variety of channels deployed
Reinforced emotional connections to the brand among hourly and salary employees alike
Reminded employees what they love about At Home, and why they chose to work there
Kept open enrollment top of mind throughout the campaign and drove employees to enroll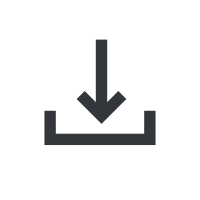 Get a copy of this case story
Need to take this story with you to a presentation or pitch meeting? Download the PDF below and have it on hand whenever you need it.
Download the PDF
Today, we breathed life into strategy through creative and intentional storytelling. I am proud. I am grateful. I am blessed to work alongside the team that is transforming how we communicate at Texas Health.
I really like what MindHandle does for the brand. They push the creative.
Their professionalism and strategic thinking can really help move businesses forward. They help channel efforts so that the execution happens in a consistent way.
This campaign made me proud to come to work today. It gave some of my teammates actual chills.